Rabbits are popular, albeit unique household pets, as they have a communication style vastly different from other traditional household animals, such as dogs or cats. Rabbits have very individual personalities, even within their own breeds.
While rabbits are typically viewed as sweet, affectionate, and innocent creatures, they can also display signs of aggression and rigid behavior if their territory is seemingly threatened.
Are Rabbits Territorial?
Rabbits are highly territorial creatures, which stems from their anxious, and fearful dispositions. Rabbits are easily spooked, and therefore like to act as they would in the wild in all situations – by either freezing, running, or showing aggression. 
Considering rabbits cannot control their environment, their aggression is oftentimes displayed in unfortunate situations, such as in their household. A rabbit's territory is inclusive of their cage, and personal space, which is why their territorial nature can be executed in these places.
Rabbits like to mark their territory in effort to assert themselves, and convey a message of having power. Female rabbits even mark their young to make them easier to recognize, and to let others know who they belong to, as rabbits are wild by nature – even if they are your pet.
If they feel threatened, rabbits will turn to aggressive behaviors toward who they feel is their aggressor – be it their owner, another rabbit, or animal in the wild. In this article, we will discuss some tips, and tactics to help reduce and possibly eliminate any territorial behavior from your rabbit such as biting, or growling.
Are Rabbits Territorial With Other Rabbits?
It should come as no surprise to learn that rabbits are territorial with other rabbits. Although social creatures by nature, rabbits are one of the most territorial animals, which makes the bonding process quite lengthy, and stressful.
It is important to keep in mind that rabbits like to be bonded with other animals, and enjoy living with other creatures. Giving up on an aggressive rabbit during the bonding process can be quite detrimental to their mental, and physical health.
They will learn to live with other animals, especially rabbits, if introduced, and bonded properly. The safest, and easiest way to bond two rabbits is in a neutral place. Avoiding a rabbit's personal space (such as their cage, or bed) reduces their need to be territorial with other rabbits, as they won't feel threatened.
Bonding is properly done gradually, and over a series of weeks by slowly increasing the amount of social interaction on a daily basis. Once rabbits are bonded, they are bonded for life.
Rabbits are territorial with other rabbits as they are hierarchical creatures – meaning, they battle over dominating status. If one rabbit feels threatened, it is in their nature to battle to stay alive. Due to this, that particular rabbit will display aggression.
This is why it is so important to slowly bond rabbits, and teach them that a threat does not exist.
Are Rabbits Territorial With Humans?
Just as they are with other rabbits, rabbits are territorial with humans. Though we are much larger than they are, and even if we have never displayed an ounce of anger toward them, rabbits can still be quite defensive.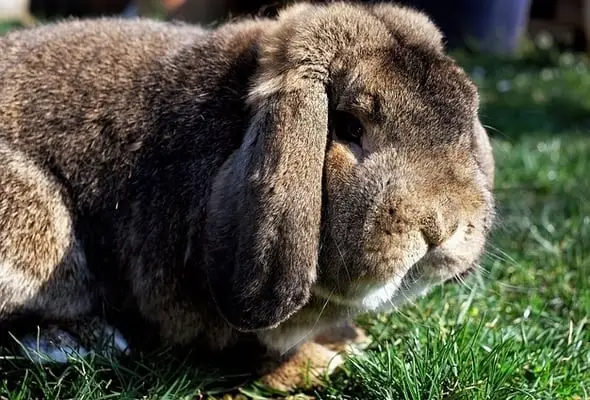 As discussed previously, rabbits do not like their personal space invaded, or disturbed in any way. They tend to separate their space from the human outside world space, and the wild to protect their inner world, as their natural instinct is to survive.
Any outside disruption to their system is therefore viewed as a threat. The simple act of a human being reaching their hand inside of a rabbit's cage to refill their water dish, or food bowl could send a rabbit's mind into a panic, which translates into aggressive behavior.
These aggressive behaviors can often be concerning to these rabbit owners, however, it is important for those with rabbits to know how important it is to work with them. Rabbits are easily trainable with time, patience, and dedication. They are wonderful, and intelligent creatures.
Are Territorial Rabbits Prone to Biting?
Rabbit owners have reported that their pets have bit, scratched, or shown their teeth to them on different occasions, which is sadly not uncommon. Thankfully, these behaviors, just as they have been learned, can be unlearned.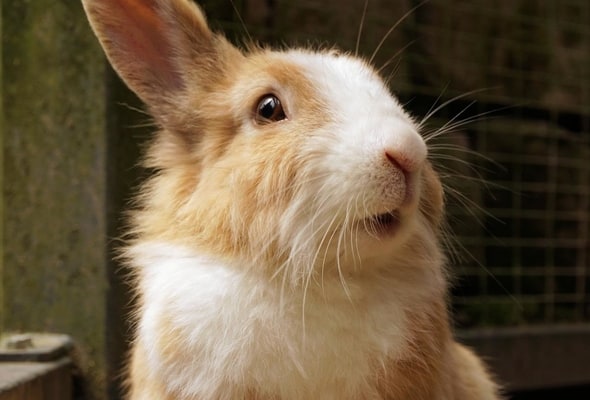 A rabbit owner must be dedicated in their approach at working with their furry friend. Rabbits must be approached slowly, and in a neutral space – again, away from their cage, or bed, as these places are where they often feel the need to be most territorial.
Rabbits do not bite by nature, or on a repeated basis. If this occurs, it typically means that your pet rabbit was caught off guard, grabbed in the wrong way, or is feeling frightened, which then leads to aggression. Feelings of aggression is what drives a rabbit to be territorial of their surroundings, and of their environment.
How Do You Deal With a Territorial Rabbit?
One of the greatest things about rabbits is their intelligence, and ability to learn efficiently. After a rabbit learns a task, they retain that knowledge, or skill for life. That being said, after a rabbit knows not to feel territorial, anxious, or aggressive in a particular situation, he then learns to feel comfortable in that respect.
Bonding is a behavioral practice that has worked wonders with rabbits, as rabbits become bonded with other rabbits, or humans for life once they form their bond.
Another practice that has produced positive results with rabbits displaying territorial behaviors is to observe an "open door" policy with their cage. If a rabbit feels trapped, or contained, it is in their natural instinct to fight back for survival.
Allowing the rabbit to come, and go as they please will create a more relaxed environment where they feel more in control of their surroundings, and overall contentment in their general disposition.
It is also best to change your pet's water, and food when the rabbit is out of their cage so as to avoid making your rabbit feel threatened, or invaded.
Conclusion
There's no misconception that rabbits are territorial, however, they maintain their infectious looks, and personalities. Their territorial nature stems from a stressful environment wherein they feel threatened, which can easily be remedied with dedication to your pet.
It's important to work with your rabbit to address these behaviors, as this can lead to biting, and unpleasant actions. Although requiring patience, rabbits are smart creatures, and retain knowledge.
Rabbits are wonderful creatures worth investing in. They form lifelong bonds with their caretakers, and other rabbits. If you see an aggressive rabbit, think twice before assuming he is angry!