As pet owners, we have all had to deal with pet hair to a frustrating degree. Owning a cat means dealing with hair that continuously multiplies like magic. Not to worry, we have compiled a list of 15 alternatives on how to remove cat hair from clothes without a lint roller.
How to Remove Cat Hair From Clothes Without a Lint Roller (With 15 Methods)
We've gathered these handy lint roller substitutions with cat owners in mind, but these suggestions can work on a wide variety of pet hair types. You may already have some of these products in your home!
1. Packing Tape
Packing tape is a great alternative to a traditional lint roller. You can also use regular, double-sided, washi, and duct tape.
You will want to tear a decently sized strip and wrap it around the palm of your hand with the sticky side facing away from your palm and the non-sticky side touching the skin of your palm.
2. Damp Dishtowel
On certain fabrics, a damp dishtowel can prove to be extremely effective in removing cat hair. You will want to slightly dampen your chosen towel, and gently run the cloth over the area of clothing that needs hair removal.
If you press down with too much pressure, you may leave behind more damp spots which are not the best when you are in a rush.
3. Squeegee
We know what you're thinking; a squeegee? Yes, a squeegee! You can typically find that this product is used for window cleaning and water removal, but it works like a charm when removing cat hair!
We recommend laying the clothing item on a clean, flat surface so you can gently run the squeegee over the hairy areas. Some fabrics may not work that well with this method, so you can try dampening the squeegee but keep in mind that you may need to quickly run the clothing item through a dryer.
4. Rubber Gloves
In our opinion, rubber gloves work as a better cat hair removal tool than lint rollers. They can be reused, so if you like decreasing waste in your home this is a great option.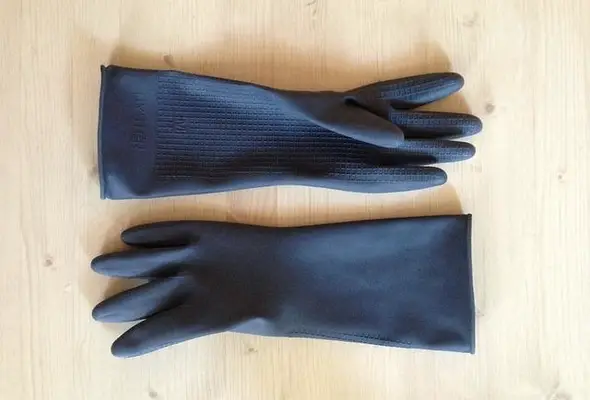 All you have to do is put a rubber glove on your hand and gently swipe at the cat hair stuck to your clothes. If the hair seems stubborn and will not budge, you can dampen the glove and the hair should be as good as gone.
5. Dryer Sheet
We know that dryer sheets help your clothes smell great and smooth out wrinkles, but were you aware that they can help to remove cat hair as well?
You can rub an unused dryer sheet over your clothes to remove any annoying cat hair, and it also leaves your clothes smelling like they are fresh from the dryer. You can find dryer sheets that have been specifically made to help with pet hair removal at any store that sells laundry products.
6. White Vinegar
If you notice residual cat hair on your clean clothes after they have been washed and dried, you might want to consider adding a splash of white vinegar to your clothes when you pour in detergent.
White vinegar will loosen any stubborn cat hair, and also cancels out any pet odors that may be stuck to your clothes.
7. Fabric Softener
Fabric softener makes your clothes feel and smell great, but it can also help to remove any cat hair that may be sticking to your clothes while they are being washed.
You can also add a splash of fabric softener to a spray bottle filled with water to spray any clothes with cat hair before you wear them, let it dry for a few minutes, and then go in with a dryer sheet to remove the remnants. This mixture will aid in loosening the cat hair so it is easily removed!
8. Wool Dryer Ball
A wool dryer ball is another handy tool we recommend investing in if you struggle with cat hair on your clothes.
These products will pick up any pet hair that is attached to clothes while in the dryer and can be reused for future uses. Wool dryer balls are fairly inexpensive and can be found at a wide variety of stores, as well as online.
9. Balloon
While this option may sound silly, it really does work! If you have any non-inflated balloons hanging around your house you can use these to remove cat hair that is stuck to a wide range of fabrics.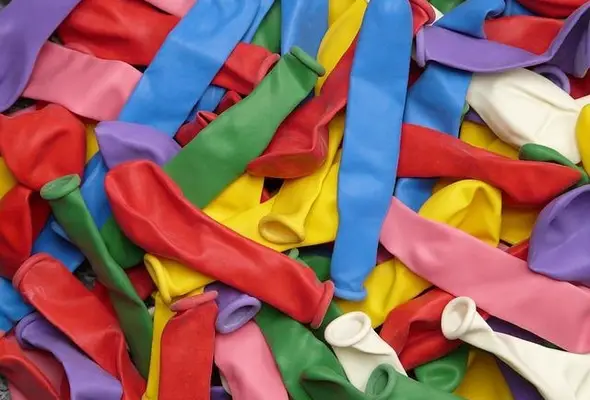 If at first it does not seem to be exactly doing the trick, you can add a little bit of water to the balloon and give it another try!
10. Pumice Stone
Pumice stones are cleaning tools that can be used for a wide variety of needs. If you have clothing items that are in need of good cat hair removal methods, we highly recommend this product.
You can lightly run a dry pumice stone over clothing items to remove cat hair, but you can also wet the pumice stone and run it gently over clothes before putting them in the washing machine to remove stubborn cat hair.
11. Dry Kitchen Sponge
You most likely have an extra unused kitchen sponge hanging out under your sink that can be used for cat hair removal. You want to make sure it is clean and dry, then you should be able to lightly rub away any cat hair that has attached to your clothing items.
Some fabrics may require a damp kitchen sponge, and this method works great as well.
12. Large Eraser
A large pencil eraser works wonders when needing to remove cat hair from clothes, and you can easily store them in a car, purse, or locker for hair removal on the go. The idea is the same, you just rub the eraser on the patches of cat hair and watch as they clump together for easy removal.
13. Any Textured Rubber
Textured rubber works similarly to a large pencil eraser, it will force the cat hair to clump together making removal extremely easy.
You can use kitchen or cleaning gloves, rubber face cleansing pads, baking spatulas, or even some bracelets that have been made from rubber! The options are truly endless and extremely useful.
14. Hair Removal Tools
You can find a wide variety of tools that can easily remove cat hair without needing to rely on lint rollers. If you look online you will be able to find various scrapers that were created to remove pet hair and lint easily and can be reused for a very long time.
This option is sustainable, helps to cut back on waste, is affordable, and can be used to remove cat hair from then just clothing items!
15. Microfiber Towel
Ending our list of cat removal methods that don't require a lint roller is the useful microfiber towel. These towels are generally used to clean surfaces that scratch easily, but also work wonders for cat hair removal!
Some fabrics may work well with a dry microfiber towel, but keep in mind that you may need to dampen the towel to get the best use out of it.
This product is available at a wide variety of stores and online, and can generally be found at extremely affordable prices. Even better, these towels can be washed and reused for continued use!
Conclusion
We were able to compile 15 alternatives to the traditional lint roller and explain how to best use them for cat hair removal. We hope our suggestions are helpful and allow you to relax any frustrations concerning how to remove cat hair from clothes without a lint roller.