Do you own a high-energy dog? Tired of the same, boring walk every day? In this article, we will give you some tips on how to tire a dog out without walking. We hope you find these tips helpful and are able to effectively wear out your canine companion!
How to Tire a Dog Out Without Walking
When it comes to activities to tire out your dog with, there are really endless options to choose from. Hopefully, you are able to find an exciting new activity that both you and your dog can enjoy!
1. Play With Your Dog
This is a very simple activity that can entertain your pooch for hours on end. If your dog has a favorite ball, playing fetch is a very quick way to tire your dog out completely.
If you are not likely to be able to sit out with your dog and throw a ball, they make machines for dogs that allow them to play fetch with themselves!
If your pooch enjoys water, consider investing in a kiddie pool! You can fill the pool with water (or even a little bit of ice if it's hot in your area) and watch as your dog has the time of their life.
Sprinklers are another tool that you can have in your arsenal, and plenty of dogs think that playing in a sprinkler is the best time ever. Just be prepared to have a wet dog running amok!
2. Let Your Dog Run
Letting your dog run is another great option that does not require much work on your part. If you have a sizeable property where your dog is free to roam, let them out to run for a while.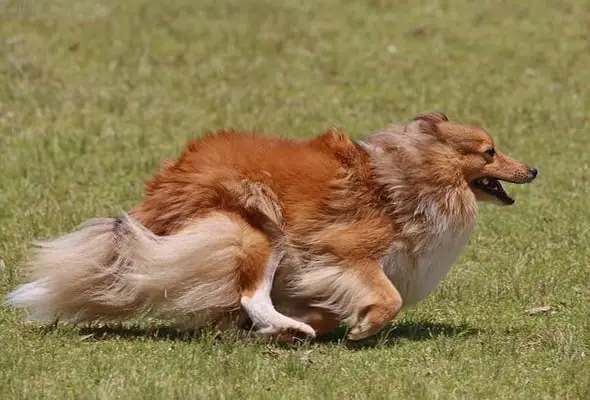 If your dog cannot be trusted to free roam, there are long leads and tie-outs that can be attached to any tree or fence you may have, and allows your dog to run until their heart is content (or until they are utterly exhausted). These can be found at any pet store online or in-store.
Treadmills have been created for dogs with a handy harness attachment that you can set up anywhere in your house or outside! Simply attach your dog's harness to the treadmill and watch as they run and have a great time.
Verify that the treadmill is approved as safe for dogs before deciding to purchase.
3. Mental Enrichment & Stimulation
Mental enrichment and stimulation is a great way to tire your dog while also boosting their problem-solving skills and the development of their senses.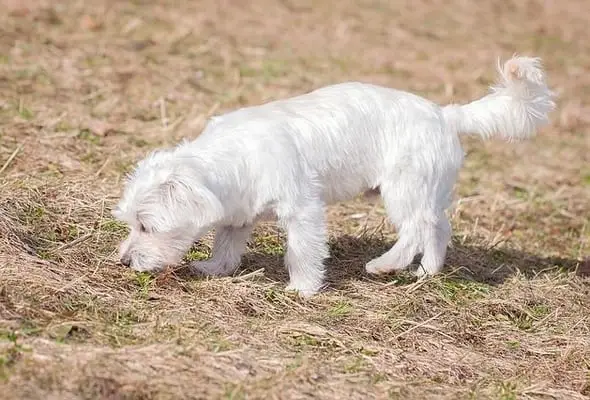 An easy way to accomplish this is by playing 'sniff and seek' with your dog, by hiding their favorite treats in concealed spots around your home and property.
This encourages your dog to rely on their sense of smell, and use problem-solving tactics to find their favorite treats. You can also do this with your dog's favorite toys.
You can invest in puzzles for dogs as well! They come in a variety of versions, but the main idea behind these products is hiding your dog's favorite treats inside of the puzzle so that they have to figure out on their own how to reach the prize.
There are a wide variety of smell-good scents and sprays that are safe for dogs, you can spray these around your house and property. Your dog will use their nose to explore these new scents, but always verify that anything you let your dog into contact with is completely safe for dogs.
4. Agility Course
An agility course is a great way to exhaust your dog while also letting them exercise their mind and body. You can easily make your own agility course at home with tunnels, large tires, plywood, or any other building scraps you may have laying around your home.
There are also professional agility courses available, but this will vary on the area you live in. Agility course kits are available online and come in many different types.
Your options are truly unlimited when it comes to agility courses. You can also check your local dog training groups and dog parks to see if there are any courses available near you.
5. Stairs
Who doesn't get absolutely knackered after climbing up and down a few flights of stairs? If you have stairs in or around your home, we highly recommend using them to your advantage.
Let your dog walk or run up and down your stairs a few times, but make sure you are encouraging them with praise and treats!
This is sure to tire your pooch out, but keep in mind that continuously running up and down stairs may not be the best activity for any large breed dogs who struggle with joint or mobility issues.
Your pooch should always have fresh and clean water available to them at all times, especially when they are performing physical activity that exhausts them.
6. Doggy Daycare
Doggy daycares have become extremely popular and are widely available in cities across the United States. A doggy daycare gives your pooch the opportunity to get out of the house and get to meet and play with new dogs.
Normally, a doggy daycare has requirements that must be met before accepting any new clients, like fully updated vaccines.
A doggy daycare generally has an interview process for both you and your dog, so they are able to verify that your pooch is not aggressive with other pets. If you know that your dog tends to be reactive around others, this option may not be the best bet for your canine companion.
7. Training Classes
If your dog has behavioral issues, but you would still like to try socializing them with other dogs to achieve a tired pooch, you can look into professional dog training classes. There are endless options when it comes to training classes, and they are normally widely available.
Obedience training, protection training, hunt and retrieval training, and agility training are just a few variations of training classes that are accessible.
We always recommend professional dog trainers because they do not just train your dog, they also give you the knowledge needed to ensure a happy and healthy dog with no behavioral issues.
Professional trainers and dog behaviorists are a wise investment, and money well spent.
8. Dog Park
Dog parks have quickly risen in popularity, especially as more people start to own dogs. A dog park is a great (and normally free) activity that is sure to tire your dog out. Dog parks are great because they have a large amount of space to run and play with other dogs of all sizes.
Again, if your dog has behavioral or reactivity issues with other people and dogs, we do not recommend this option.
There are sometimes doggy splash pads available at dog parks too, so this is a great option for someone who has a dog that loves water but has no access to a pool or appropriate swimming places.
Public parks will oftentimes be pet friendly, and you may be lucky enough to find one that has public access to a body of water for your dog to swim in.
Conclusion
In this article, we discussed a variety of options that you can explore and provided you with great tips on how to tire a dog out without walking. We hope you found this article helpful, and we wish you the best of luck!